2016 Sonoma Coast – Chardonnay
This Chardonnay is produced from estate grown grapes from our own Michael Mara Vineyard® on Carriger Road in Sonoma, California, established in 2006. The vineyard is within both the Sonoma Coast and Sonoma Valley Appellations. The very rocky soil of this Sonoma vineyard produces rich Chardonnay fruit with great character. This is a no-oak Chardonnay that has won back the hearts of former Chardonnay fans who moved on to Sauvignon blanc. With brightness and mineral acidity, notes of ripe pear, peach and toasted almond, a distinct core of rock dust or ground oyster shell, a distinguishing feature of this vineyard, this wine can be paired with a large variety of foods; enjoy with cheeses, salads, fish or fowl. This is a delicious and crisp Sonoma white, described by Robert Parker's The Wine Advocate as "Medium to full-bodied with a lovely suggestion of silkiness to the texture and plenty of apple and pear goodness, it finishes with a zesty lift."
123 cases produced
$39.00 per bottle
2016 Compound
The Idell Family Vineyards COMPOUND is a G-S-M blend from two spectacular vineyards.  The Mourvèdre and Grenache are sourced from the Steel Plow vineyard, farmed by viticulturalist Phil Coturri.  The Steel Plow vineyard soils are primarily igneous volcanic rock and clay.  The Sryah is from our estate Oscar® vineyard and is located on land which was part of the original Carriger Estate of Nicholas Carriger who came to Sonoma in 1846 and purchased his 1000 acre parcel from General Vallejo.  Carriger reportedly was the first American to grow wine grapes in Sonoma Valley.  The vineyard is in an area with plentiful round river rocks abounding, likely a result of an alluvial stream deposit or landslide that cascaded rocks and volcanic soil into one spot in the valley below Sonoma Mountain, to the West of the vineyard.  Grenache 67%, Syrah 19%, Mourvèdre 14%.
The Idell Family Vineyards COMPOUND is medium-bodied, lush and very vibrant, with notes of cherry, vanilla, spiced berry, black pepper and coffee.  Rated 91 by Robert Parker's The Wine Advocate, described as "Full-bodied, opulent and spicy in the mouth, the plush tannins add to the decadence of the palate while a refreshing line provides energy to the finish."
73 cases produced
$45 per bottle
Oscar 2015 Sonoma Valley – Syrah
The 2015 Oscar Syrah is as fantastic as previous years! This Syrah is a rich, complex wine; smooth, and  jammy, it it fruit-forward with lots of blackberry and current. This delightful Syrah has received rave reviews year after year. Delightful to drink now or to hold onto for that special occasion in years to come.  Rated 91 points by Robert Parker's The Wine Advocate and described as "…Medium to full-bodied, the palate is chock-full of ripe black berries and spicy flavors with a frame of rounded tannins and racy acid to support, finishing long and peppery."
108 cases produced
$35.00 per bottle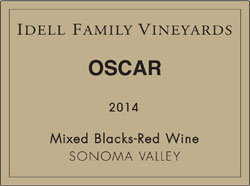 2014 Oscar Mixed Blacks
2014 Idell Family Vineyards, "Oscar" Mixed Blacks is a field blend vineyard, Sonoma Valley 100% Estate grown grapes. This vineyard is dry farmed, head pruned and a traditional Sonoma field blend: Petite Sirah, Zinfandel, Carignan, Mourvedre and Grenache all farmed together, harvested together and fermented together. Very rich, complex, robust blend with hints of blackberry, raspberry and chocolate.  Robert Parker's The Wine Advocate describes the younger, but extremely similar 2015 Mixed Blacks (we did not submit the 2014) as "Full-bodied and packed with spicy baked berry flavors, it has a chewy texture and appealing freshness in the mouth, finishing earthy."
147 cases produced
$39.00 per bottle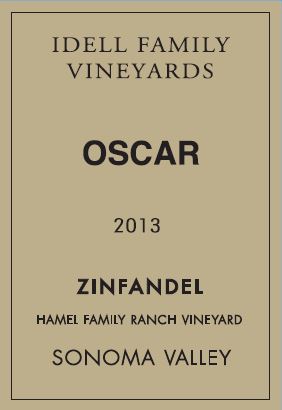 2013 Oscar Zinfandel
This delicious Zinfandel has hints of blackberry and chocolate with a very smooth finish. It is a classic Sonoma Valley Zinfandel made from grapes grown by our friends at the Hamel Family Ranch Vineyard in Sonoma Valley. Great with barbecue, tritip, sausages, ribs or roasted chicken.
120 cases produced
$35.00 per bottle